When it comes to exploring the captivating sights of Bikaner, the Bikaner Sightseeing Tour package is your key to a remarkable journey. This comprehensive package is your gateway to the vibrant culture and rich heritage of Bikaner. With the Bikaner Sightseeing Tour package, you can experience the city's architectural marvels, art, and history, all infused with a spectrum of colors and vibrancy.
But where can you find the best Bikaner Sightseeing Tour package? Look no further than Udaipur Tempo Traveller.co.in. This website offers the finest Bikaner Sightseeing Tour package for an unforgettable adventure. With their expertise and dedication to travel, they ensure your Bikaner experience is hassle-free and enriching. It's here that you'll discover the true essence of Bikaner's culture, history, and spirituality through the Best Bikaner Sightseeing Tour package.
Junagarh Fort
Junagarh Fort was built in the year 1593 by Raja Rai Singh. The fort structure consists of temples and palaces. The delicately done galleries, lawns, and windows catch the eyes of the visitors. The Zenana quarters, in particular, lures the attention of tourists as they display impeccable designs of great creative skills.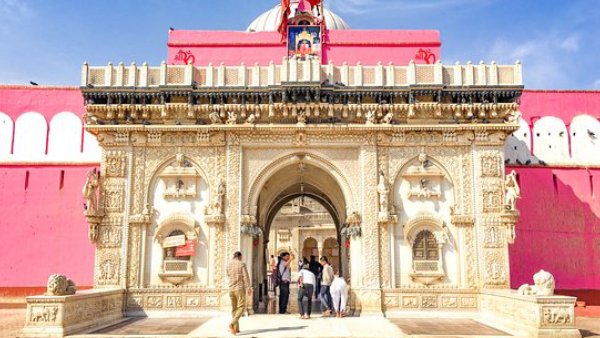 Karni Mata Temple
Karni Mata Temple is likely a standout amongst the most renowned spots to visit in Bikaner. This sanctuary is known for its sizable populace of rats that are the lasting occupants here. Going back to the 15thcentury, this sanctuary is devoted to Karni Mata who was the incarnation of Goddess Durga.
---
Gajner Palace
Gajner Palace is among the popular sightseeing attractions of Bikaner, situated on the bank of a lake. The castle was built by former ruler of the Bikaner province, Maharaja Ganga Singh Ji. Gajner Palace was a hunting and vacation lodge during old times.
---
---
Lallgarh Palace
Another structural wonder in Bikaner is Lalgarh Palace. This magnificent palace was constructed by Maharaja Ganga Singh in the new 20th century. The palace has now been transformed into a hotel and thus is an excellent place to spend your holiday.
Rampuria Haveli
The rich merchants of Bikaner build Rampuriahavelis over a period of a few hundred years. Standing beautifully, these Havelis of Bikaner are not just a visual delight. They are a perfect example of the delicate sagacity of aesthetics that our forefathers had endowed upon us.
Shri Laxminath Temple
It is one of the oldest temples of Bikaner and beautifully graces the sacred sanctum of Lord Vishnu and Goddess Laxmi. Many people know this temple for the festivals and grand celebrations that occur here on the festivals like Janmashtami, NirjalaEkadashi, Ramnavami, Diwali and Geeta Jayanti.
---
Bhandasar Jain Temple
One of the two famous Jain temples of Bikaner, Bhandasar is considered particularly one among the best places to visit in Bikaner. It is beautified with yellow stone carvings and vibrant paintings. The interior of the temple looks stunning with the paintings on the walls and pillars. The walls carry floral arabesques and the depictions of the 24 Jain teachers.
Royal Cenotaphs, Devikund Sagar
Here you can see a reservoir which has royal cenotaphs on the either sides; cenotaphs of rulers of Bikaner dynasty from Rao Kalyan Singhji to Maharaja Karni Singh. Chhatries or cenotaphs of 22 Saties of the royal family prior to Maharaja Gaj Singh. You can see a cenotaph of a male as well.
---
Gajner Wildlife Sanctuary
Approximately 32kms from Bikaner, Gajner Wildlife Sanctuary is an exemplary place for wildlife experience near Bikaner. The sanctuary houses many species of animals like Chinkara (black buck), wild boar, neelgai and much more and this is one of the best Bikaner tourist places.
---
Whether you wish to visit the iconic Kote Gate, explore the bustling Station Road market, or immerse yourself in the grandeur of the Junagarh Fort and the serenity of Sursagar Lake, the Bikaner Sightseeing Tour package from Udaipur Tempo Traveller.co.in is your ticket to a memorable journey.
So, for an unparalleled Bikaner Sightseeing Tour package, trust Udaipur Tempo Traveller.co.in. Your adventure in Bikaner awaits with the best package designed for your ultimate exploration.
1How many days are required for Bikaner?
To thoroughly explore Bikaner and its attractions, it's advisable to spend at least two to three days. This allows you to immerse yourself in the city's rich culture and history, savor local cuisine, and visit various sites comfortably with a Bikaner Tour Package.
2Which tour package is best?
Selecting the best Bikaner Tour Package depends on your preferences. Bikaner offers a variety of packages, from cultural and historical tours to camel safaris. Research various options, consider your interests, and read reviews to find the one that suits you best.
3Is one day sufficient for Bikaner?
One day is quite limited for exploring Bikaner, but it's possible to cover the major attractions like Junagarh Fort, Karni Mata Temple, and the old city. For a more in-depth experience, consider extending your stay with a Bikaner Tour Package.
4Is 2 days enough for Bikaner?
Two days provide a reasonably good experience in Bikaner, allowing you to visit the major landmarks. However, extending your stay to explore more leisurely or engage in activities like a desert safari can make your visit more fulfilling with a Bikaner Tour Package.