Kullu Manali Yatra
A trip to Kullu Manali is the medicine for fatigued minds and tired souls. Nature has blessed them generously, and yet, one is different from the kind of experiences they offer. Kullu is called the "land of the gods", and quite aptly so. Stretched out leisurely on the banks of the River Beas, it is blessed with a magnificent scenery characterized by forests, valleys, streams, rivers and orchards. Mystical Malana to serene Manikaran, it lures tourists for many reasons. The town of Manali is seated comfortably in the River Beas Valley, and its popularity has increased faster than the clouds that dance on its hilltops. Wonderfully combining nature and adventure, it is serenity, history, nature, spirituality and shopping, all merged into one. Holidays in Kullu Manali then, is about sightseeing, but it is also about adventure, spirituality & being prepared to be constantly surprised.
Both Kullu and Manali, top tourist destinations of Himachal Pradesh, seem to outdo the other in their scenic magnificence and opportunities for sightseeing & adventure. Kullu, the town believed to be apt for the gods, pleasantly surprises the visitor with the diversity it offers. In Manali, what you see is what you get, raw beauty with serenity, the likes of which you may have only dreamt about.
Located in the northern end of Himachal Pradesh's Kullu Valley, Manali is not just one of India's most popular tourist destinations but also a significant honeymoon destination. Manali is one of the perfect destinations for honeymooners with quaint and comfortable cottages and snowfall during winters. With the lush greenery, heritage sites, cafes and plenty of space for adventure activities, experience it all with Sara Taxi's diverse range of Manali travel packages.
What frequently attracts large crowds to Manali is its natural bounty; cascading waterfalls, green valleys, new villages, snow-covered terrain and more make for incredible sights. Don't forget to trek to the picturesque Jogini Waterfall, a journey that passes by orchards, pine trees and meandering streams and ends with magnificent views of Rohtang. The Rohla Falls is yet another waterfall you mustn't miss as it is an excellent picnic spot and falls en route to Rohtang Pass.
Manali tour packages include trips to quaint villages like Kothi Village, Malana, Naggar, Old Manali, Bhunter and Keylong. Featuring green or snow-covered peaks, stone roof houses, trails, camping sites and most of all, utter serenity, these villages are ideal for escaping the hustle of the crowded tourist sites.
Known predominantly for breathtaking mountain passes like the Hampta Pass, Chandrakhani Pass and Rohtang Pass, you have plenty of opportunities to go trekking while surrounded by magnificent snow-clad peaks, lush green meadows, dense pine forests and lakes. Your trip to Manali also has to include adventure activities like river rafting, paragliding, skiing, trekking, mountain biking, sledging, zorbing and more; Solang Valley, Rohtang Pass, River Beas etc. are some of the famous sites.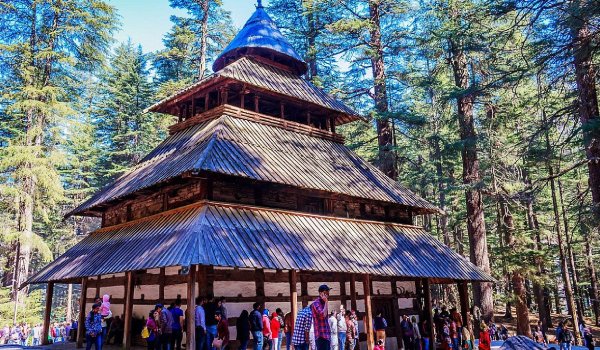 Hadimba Temple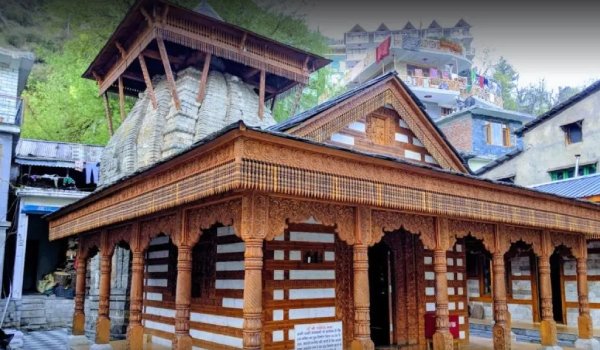 Vashisht Temple
Manikaran Sahib