Ujjain Yatra
Located on the banks of the Shipra River in Madhya Pradesh, Ujjain is an ancient and holy city that is also one of the four Kumbh Mela destinations. Home to the Mahakaleshwar Jyotirlinga, several other temples, sacred sites, and historical monuments, it attracts large crowds of pilgrims and tourists. Tour this holy city with Sara Taxi's numerous Ujjain travel packages, which are budget-friendly.
The Mahakaleshwar Jyotirlinga is the main attraction of Ujjain; one of India's 12 Jyotirlingas, it's known for its self-manifested Mahakal lingam and its Dakshina Mukhi idol facing south, unlike the other Jyotirlingas. It is widely admired for its Maratha, Bhumija and Chalukya styles of architecture and its proximity to a lake. The temple opens at 4:00 am and hosts aartis and poojas till 11:00 pm.
While on a trip to Ujjain, you must visit other temples like the Kala Bhairava Temple, Harsiddhi Temple and Ram Mandir. Do go to the Ram Mandir Ghat; it is said that you can rid yourself of your sins by bathing here during the holy Kumbh Mela. Another sacred site to see is Gomti Kund, a steep pond, which supposedly possessed a blend of all the world's holy waters.
Besides sacred sites, Ujjain tour packages also include other tourist attractions. Explore Kaliadeh Palace, which dates back to 1458 AD and is said to have been visited by emperors Akbar and Jehangir. You would also find the 17th century Jantar Mantar here, an ode to Ujjain's significance as an educational hub. Furthermore, do see the Bhartrihari Caves, which is where the poet Bhartrihari lived and meditated.
The best time to travel to Ujjain is from October to March when the weather is cool and pleasant for sightseeing. You will need 1 to 2 days to explore the city's best attractions. Various hotels and guesthouses offer accommodation. Ujjain holiday packages also allow you to visit nearby places like Indore, Khajuraho, and Omkareshwar. Indore, the state's capital, is synonymous with the 200-year old Rajwada.
Mahakaleshwar Temple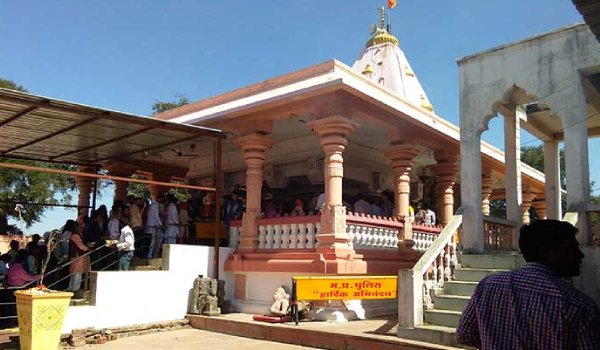 Kal Bhairav Temple
Harsiddhi Temple