Udaipur Local Sightseeing Taxi
Are you planning a trip to the picturesque city of Udaipur, often referred to as the Venice of the East? If so, you're in for a treat, as Udaipur boasts stunning lakes, majestic palaces, and a rich cultural heritage. To make the most of your visit and explore the city conveniently, you need a reliable local sightseeing taxi service. Look no further; Udaipur Tempo Traveller is here to make your sightseeing experience seamless and enjoyable.
Udaipur Local Sightseeing Taxi: Explore the City with Ease
Rightly called the Venice of the East, Udaipur is a place that is a dream destination for every travel enthusiast. One of the most alluring cities of the colorful and traditionally rich state of Rajasthan, Udaipur is surrounded by lakes and hills of Aravallis. This makes this magnificent city geographically alluring too. Udaipur tour is full of pleasant surprises and memorable experiences.
City Palace
City Palace is Rajasthan's largest palace built along the banks of Lake Pichola. The main part of the palace is open as City Palace Museum with extravagant architecture comprising of ornate halls, royal courtyard, central garden and Zenana Mahal among others.
---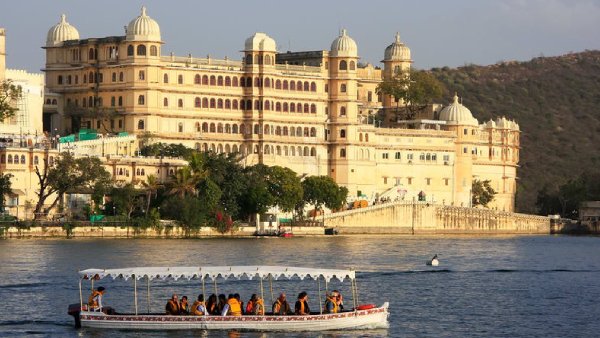 Lake Pichola
The oldest and one of the largest lakes of Udaipur, Lake Pichola is enveloped by lofty palaces, temples, and bathing ghats. Boating in Lake Pichola is the most popular thing to do in Udaipur. Boats are easily available from Rameshwar Ghat if visiting from the City Palace. Otherwise, take a boat trip from Lal Ghat.
Sajjangarh Palace
Also known as Monsoon Palace, Sajjangarh Palace is located at Bansdara Mountain on the outskirts of Udaipur. It was built by Maharana Sajjan Singh as an astronomical observatory. Now it serves as one of the best places to view the Udaipur skyline and panoramic city view, particularly at sunset.
---
Bagore ki Haveli
Bagore ki Haveli is situated in the Gangaur Ghat Marg, along Lake Pichola. It was built in the 18th century by Amar Chand Badwa, the Prime Minister of Mewar. The haveli houses more than 100 rooms with elaborate exhibits and mirror work. It also houses a museum. The Dharohar Dance Show that is held here every evening.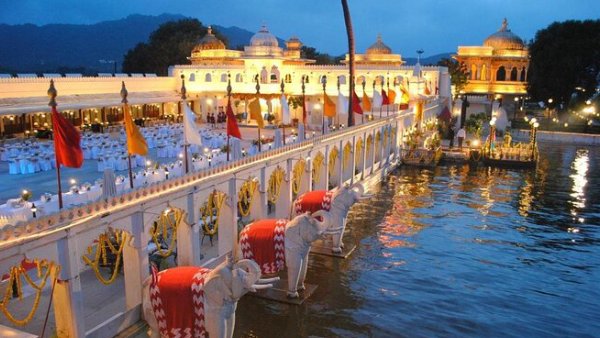 Jag Mandir Palace
Also known as the Lake Garden Palace, Jag Mandir is located on an island in Lake Pichola. It was once the summer resort of the royal family. The grand palace comprises some impressive structures worth visiting. Jag Mandir can only be visited by boat.
---
Ahar Cenotaphs
Ahar Museum, which essentially includes the Ahar Cenotaphs as well as the Ahar Archaeological Museum, is located in Ahar which is about 2km east of Udaipur, Rajasthan. This historical attraction is famous for being the cremation ground of the Maharanas of Mewar and for its beautiful architecture.
---
---
Jagdish Temple
Jagdish Temple is one of the most famous temples in and around Udaipur. It is dedicated to Lord Vishnu in the form of Jagannath. The temple is also popular for its striking architecture. Jagdish Temple is located 150m from City Palace's Badi Pol entrance and has a steep flight of steps to the top.
Fateh Sagar Lake
Fateh Sagar Lake is an artificial lake named after Maharana Fateh Singh of Udaipur and Mewar. It is one of the four lakes in Udaipur and houses Nehru Island and the Udaipur Solar Observatory on its three islands. Boating here in the backdrop of Aravali is a must-do activity.
Saheliyon Ki Bari
A majestic garden located on one of the islands of Fateh Sagar Lake, Saheliyon-ki-Bari has expansive lawns, shady cool walking lanes and imposing fountains. There is also a small museum here. It is one of the best places in Udaipur to relax.
---
Embark on an Enchanting Udaipur Sightseeing Tour
Udaipur, often referred to as the "City of Lakes" and the "Venice of the East," is a destination that embodies the grandeur and charm of Rajasthan. Nestled amidst the Aravalli Hills, this city is a tapestry of history, culture, and natural beauty. An Udaipur sightseeing tour is not just a journey; it's an immersive experience into the regal past and vibrant present of this majestic city.
Crafting Your Udaipur Sightseeing Tour
To make the most of your Udaipur sightseeing tour, consider crafting a personalized itinerary that suits your interests and preferences. Whether you're fascinated by history, captivated by architecture, or simply seeking a peaceful retreat, Udaipur has something to offer every traveler.
Book Your Udaipur Sightseeing Tour
With its regal palaces, serene lakes, and timeless charm, Udaipur invites you to explore its wonders. Book your Udaipur sightseeing tour today and embark on a journey that promises unforgettable memories and a deep appreciation for the cultural tapestry of Rajasthan.
Udaipur is more than a destination; it's an enchanting experience waiting to be discovered. Start your adventure in the "City of Lakes" and let its magic captivate your heart.
Your Udaipur Sightseeing Adventure Begins Here
Udaipur is renowned for its captivating attractions, including the City Palace, Lake Palace, Jag Mandir, Fateh Sagar Lake, and many more. Navigating the city to witness these marvels can be a daunting task, especially if you're not familiar with the area. That's where we come in. Udaipur Tempo Traveller offers a range of local sightseeing taxi services designed to cater to your every need.
The Udaipur Tempo Traveller Difference
Easy Booking
Our user-friendly website, UdaipurTempoTraveller.co.in, makes booking a local sightseeing taxi a breeze. You can access our website from the comfort of your home or on the go, and within a few clicks, your taxi will be reserved.
Varied Fleet
We understand that every traveler has unique requirements. Whether you're exploring Udaipur solo, with your family, or a group of friends, our diverse fleet of vehicles ensures we have the perfect taxi for your sightseeing adventure.
Experienced Drivers
Our professional and knowledgeable drivers are well-versed in Udaipur's top attractions. They will not only get you to your destinations safely but also provide insights and recommendations for an enriching experience.
Transparent Pricing
No hidden fees or surprises here. At Udaipur Tempo Traveller, we offer transparent pricing, so you know exactly what to expect. We believe in fair and competitive rates.
Customized Tours
Want to create a personalized sightseeing itinerary? We're more than happy to accommodate your preferences. Just let us know your interests and the places you'd like to visit, and we'll plan a customized tour for you.
How to Book Your Udaipur Local Sightseeing Taxi
1. Visit UdaipurTempoTraveller.co.in.
2. Select your travel dates and the number of passengers.
3. Choose the vehicle that suits your group size and preferences.
4. Confirm your booking and make a secure online payment.
5. Relax and prepare to embark on a memorable Udaipur sightseeing journey.
Discover the Magic of Udaipur with Udaipur Tempo Traveller
Don't let transportation hassles hold you back from exploring the beauty of Udaipur. Udaipur Tempo Traveller ensures that you can effortlessly enjoy the city's wonders without worrying about logistics. Book your local sightseeing taxi with us, and get ready to immerse yourself in the enchanting ambiance of Udaipur. Whether you're interested in history, culture, or simply want to enjoy the serene lakes, we've got you covered. Your Udaipur adventure begins with a simple click at UdaipurTempoTraveller.co.in.
Explore Udaipur with comfort, convenience, and confidence. Book your local sightseeing taxi today and make the most of your Udaipur experience!