Also called the Pink City, Jaipur is the capital of the royal state of Rajasthan. Along with Delhi and Agra, Jaipur forms the Golden Triangle and hails as one of the most famous tourist circuits in the country.
Rajputs ruled Jaipur for many centuries and developed as a planned city in the 17th century AD. With the old city surrounded by walls and gates decorated with drawings on the backdrop of a beautiful pink hue, Jaipur, the pink city, successfully retains its old-world charm. Home to a few UNESCO World Heritage sites, including Amer Fort and Jantar Mantar, Jaipur holds many magnificent forts, palaces, temples and museums and brims with bustling local bazaars where you can shop to your heart's content. The city is also very well known for its local food, and the most famous dishes include the Ghewar, Pyaaz Kachori and Dal Baati Churma. The city also hosts the Jaipur Literary Festival, which is Asia's biggest festival of its kind.
Amer Fort
Cradled on the top of a hill near Jaipur lies the Amer Fort, one of the most magnificent palaces in India. Also commonly known as the Amber Fort, this majestic building is a part of an extensive complex. The massive fort can be explored in 2-3 hours. Audio guides are available explaining the history.
---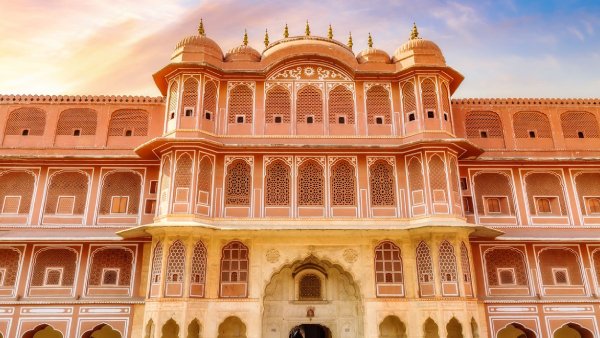 City Palace
The magnificent City Palace in Jaipur is one of the most famous tourist attractions located in the old part of the city. Built by Maharaja Sawai Jai Singh during the years 1729 to 1732, the vast complex of the palace occupied one-seventh of the walled city.The museum showcases various unique handcrafted products and other things that belong to the royal heritage of the City Palace.
Hawa Mahal
Hawa Mahal is a structure made of red and pink sandstone and has a pyramidal structure which almost resembles a crown. It has been embellished with 953 tiny windows, also known as 'Jharokhas' and embellished with gorgeous latticework. From within, the Hawa Mahal palace is based on five floors each of which has a uniquely decorated chamber.
---
Jantar Mantar
The intelligent construction and placement of these instruments allowed the observers to note the position of heavenly bodies with their naked eye alone. Time has failed to lay dust upon this engineering marvel and it still works as well as it used to in the olden times.
Nahargarh Fort
Embellished with delicate carvings and stonework, the Nahargarh Fort is an impregnable structure and together with its two neighbouring forts - Amer and Jaigarh once stood as the strong defence of Jaipur city. The Fort was built by Maharaja Sawai Jai Singh II in the year 1734 as a retreat.
Birla Temple
The magnificent Birla Mandir in Jaipur is a Hindu temple that forms a part of one of the several Birla temples located all around the country. Also known as the Lakshmi Narayan Temple, the shrine is situated on the Moti Dungari Hill. Visit Birla Temple for a rendezvous with the Divine.
---
Albert Hall Museum
It is a standing example of the Indo-Saracenic architecture and is also known as Government Central Museum. Albert Hall Museum has an extensive collection of artefacts brought from the different regions of the world that are divided over a whopping 16 art galleries!
Jaigarh Fort
Cradled on the top of the cliff, it is a palatial structure bounded by verdant greenery and massive battlements. This magnificent fort is connected to Amer Fort through subterranean passages and is famously known as the 'Fort of Victory' as it was never conquered.
Galtaji Temple
Located on the outskirts of the regal city of Jaipur, Galtaji Temple is a prehistoric Hindu pilgrimage site.This majestic temple is situated at the heart of a hilly terrain that is bounded by a beautiful gorge that attracts tourists here every year. Galtaji Temple was built using pink colour sandstone and is a vast temple complex housing varied shrines.
1Can we see Jaipur in 2 days?
While you can get a taste of Jaipur's beauty in 2 days, it's best to plan for at least 3 to 4 days to explore the city's iconic attractions comfortably. This allows you to experience the rich history, culture, and architecture without rushing.
2How many days are required for Jaipur sightseeing?
To enjoy a comprehensive Jaipur sightseeing experience, plan for 3 to 4 days. This duration allows you to visit landmarks like Amer Fort, City Palace, Hawa Mahal, Jantar Mantar, and explore local markets for a well-rounded trip.
3How can I visit Jaipur for sightseeing?
To make the most of your Jaipur visit, consider booking a Jaipur Sightseeing Tour Package. These packages offer guided tours to major attractions, comfortable transportation, and expert insights into Jaipur's history and culture. You can book them through reputable tour operators.
4What is the cost of a Jaipur tour?
The cost of a Jaipur tour varies depending on your preferences and the package you choose. On average, a basic Jaipur Sightseeing Tour Package may start from around $50 per person for a day. However, prices can vary based on inclusions and the level of luxury you desire.